Special occasions & meetings
Why not hold your business dinner, negotiation, seminar, or social gathering at the exotic Nanoq museum? In between, our experienced guides are happy to show you around the museum and tell the interesting stories behind the exhibits, artifacts, and buildings. For those who wish to enjoy the Fäboda forest's untouched beauty, there is a nature trail right by the museum. We are pleased to offer you the chance to end the evening with a visit to Nanoq's spacious smoke sauna that cleanses body and soul. Through us you can order coffee and cake, or some snacks. If you wish to treat guests to lunch or dinner, we are happy to help you select a suitable caterer.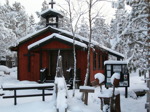 The church Avannaata Ulloria (The North Star) is a copy of a church built in 1909 in Northern Greenland. At that time, it was the northernmost church in the world. The church can be rented for weddings, baptisms, funerals, and other occasions; it accommodates up to 60 people. In the church there is a beautiful altarpiece, an old pump organ, baptismal font, and communion ware.