Pentti Kronqvist – Polar Explorer and Driving Force
The founder of the museum, Pentti Kronqvist, was born in Vaasa in 1938. He grew up in Fäboda outside of Jakobstad, where the museum is located today. Even as a young boy, he was fascinated by the ice fields and pack ice of the Gulf of Bothnia.
Pentti worked at Jakobstad's emergency services for 34 years before retiring from his position as fire chief in 1994. He was specially trained as an emergency responder and rescue diver.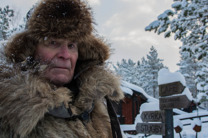 The first time Pentti took part in an expedition to the Arctic was in 1971, when he, along with Erik Pihkala, Christer Boucht, and Peter Boucht, skied across Greenland. Pihkala, who needed a fourth man for the expedition, contacted Kronqvist, who was known for his excellent condition and willingness to take on challenges. That he was knowledgeable of emergency medicine as well was an advantage. This was the start of Kronqvist's arctic adventures.

In 1973 it was time for the next trip; Pentti and Christer Boucht traveled together to Baffin Island in Canada to go hiking.

In 1976, Christer Boucht wanted to take on a larger challenge and ski from northern Greenland to Canada. Pentti was a natural participant. The third man who accompanied them was Hans Koivusalo from Vaasa. The trip began with dog sled and skis from the American air base in Thule to Grise Fiord on Ellesmere Island in Canada, a total distance of 800 kilometers. Due to ice conditions in Smith Sound, the expedition could not cross as planned but were forced to proceed further north. Pentti describes the last 400 kilometers as "incredibly tough." Both provisions and strength were waning. Fortunately, they encountered Canadian RCMP officers, who took them to Grise Fiord by snow mobile.

In the summer of 1977, Kronqvist and Boucht visited the Thule area again, first and foremost to make a movie for Finnish TV.

The next adventure was the so-called Finnish-Norwegian Trans-Greenland Expedition, which began in May 1981 and was led by Pentti. Other participants were Seppo Salomäki (Jakobstad), and the brothers Arild and Kjell Bronken. The expedition was human-powered, using skis and sail to cross Greenland. The 600-kilometer-long trip took 26 days, which at that time made it the fastest crossing of Greenland's inland ice.

During the years since, Pentti has made several trips to Greenland to visit the Inuit friends he met during his travels. In 1984, Pentti traveled to the Thule area in northern Greenland with the artist Professor Wladimir Goichman. In 1990, Pentti visited Svalbard with Carl-Gustav Eriksson and Wladimir Goichman.

Pentti has held several exhibitions in Finland, Scandinavia, Germany, Italy, and France on the Thule Inuit and is a sought-after lecturer. Pentti and the Nanoq museum have over the years received many honorary awards and medals from different organizations. He is an honorary member of the Finnish Arctic Club, as well as the Finland-Greenland Friendship Association.