this is how it started...
From a bear's den to an arctic museum
Nanoq's history is closely related to the founder and driving force behind the museum, Pentti Kronqvist, and his interest in the Arctic.
During 1956-1983, Kronqvist had built a small village with eight houses in Fäboda, 7 kilometers from the center of Jakobstad. The first building he dubbed the Bear's Den. Kronqvist came up with the idea to build an arctic museum in connection to the village during his trips to the north. Over the years, he had collected innumerable objects that he wanted to preserve and exhibit for posterity.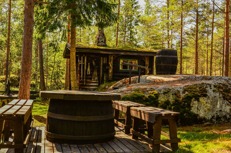 Work on building the first arctic museum in Finland began in the summer of 1988 by the newly formed organization Nanoq rf. With the help of donations and thousands of hours of voluntary work, the museum was inaugurated on June 8, 1991. In addition to the main building and the village, the area consists of eight buildings that the organization has constructed for special exhibitions over the years.